The Garden at The Fern Nursery is open to the public at the same times as the nursery, and to groups by appointment.
The garden at the fern nursery has been made over a number of years and as well as being a place to display our collection of ferns it has been designed as a wildlife garden with a number of features of interest to both visitors and wildlife. This is helped by having a natural stream running through the garden, which supplies water to an unlined pond. Here in spring we are regularly visited by breeding frogs with the growing tadpoles to follow. The pond has also attracted moorhens to breed for the last two years as well as mallard ducks and herons for brief visits. Human visitors can also enjoy the rock feature, which surrounds the pond, where are planted many of the tougher ferns and nearby are two peat beds, for the few garden ferns which do not like our chalky garden soil. While further along we are creating a sheltered winter garden of heathers and alpines with a sundial at its centre. From here the path leads to a small wood with the main fern collection and a small stumpery. In addition the visitor can see a semi formal front garden with large shrubs, a bank of drought tolerant plants and many shrubs and herbaceous perennials, while steps, seats, a gazebo, bridge and many other features add interest to the garden.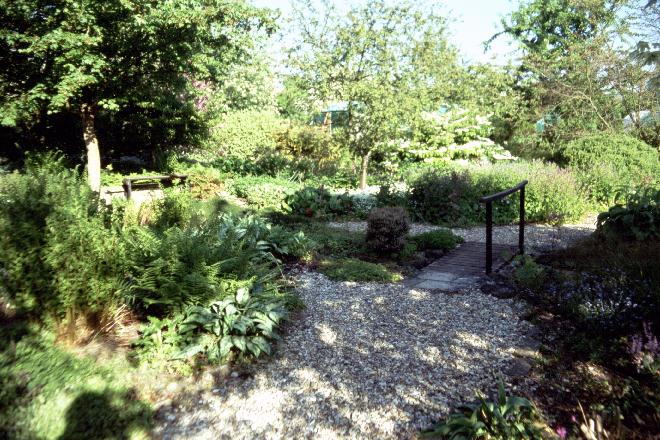 (Binbrook Bowling Club.) The heart of our village social life and a major feature of the Fern Nursery garden.
All visitors welcomed.
LIST OF BIRDS SEEN IN GARDEN
Pheasant, Wagtails (Yellow and Pied), Blue Tit, House Sparrow, Chaffinch, Green Finch, MoorHen, Jackdaw, Robin, Blackbird, Thrush, Great tit, Coal Tit, Wood pigeon, Collared Dove, Dunnock, Herron, Mallard, Longtailed Tit, Firecrest, Goldfinch, Chiffchaff, Starling, Linnet, Redstart, Bullfinch, Herring Gull, Magpie, Yellowhammer, Swallow, House Martin, Swift, Kingfisher (only passing sadly), Tree Creeper.
Home Page.